Discover the Beauty of Dona Choleng Camping Resort in Cagbalete Island
Escape from the hustle and bustle of city life and unwind at Dona Choleng Camping Resort, located on the pristine beaches of Cagbalete Island off the coast of Mauban, Quezon. Our resort offers convenient rooms and nipa cottages, situated along the white sand beaches, providing a serene and relaxing environment for travelers. Immerse yourself in the wonders of Cagbalete Island, snorkel or swim in the clear waters, and discover the unique beauty of the virgin island. It's time to make Dona Choleng Camping Resort your perfect holiday destination.
The whole island has no electricity
Electricity is powered by a generator that runs from 6 PM to 7 AM.
Entrance fee costs ₱ 100 per head for Camping Tents.
Tent Space costs ₱ 350 per tent.
The resort's check-in time is 2 PM, while the check-out time is at 12 noon.
The resort offers a food package which is ₱ 1250 per head for 3 meals and 2 snacks.
The restaurant is open from 7 AM to 7 PM during the peak season, which is typically from mid-March to June.

Direct from Mauban to Cagbalete by private boat range from ₱ 2,500.00 to ₱ 6,000.00 depending on the boat capacity.

Passenger boat costs ₱ 100 per head (one way)
For your transfer, you have the option of taking a shuttle or a chariot. The shuttle costs an additional ₱ 25.00 per person for a one-way trip, while the chariot's special one-way trip costs ₱ 250.00.
The parking area fee costs ₱ 200.00 for each vehicle, per night.
Island hopping tour features visits to the Yang-Inn Sandbar, San Jose River, Bonsai Island, and Baliscar Island.
FOLLOW US ON SOCIAL MEDIA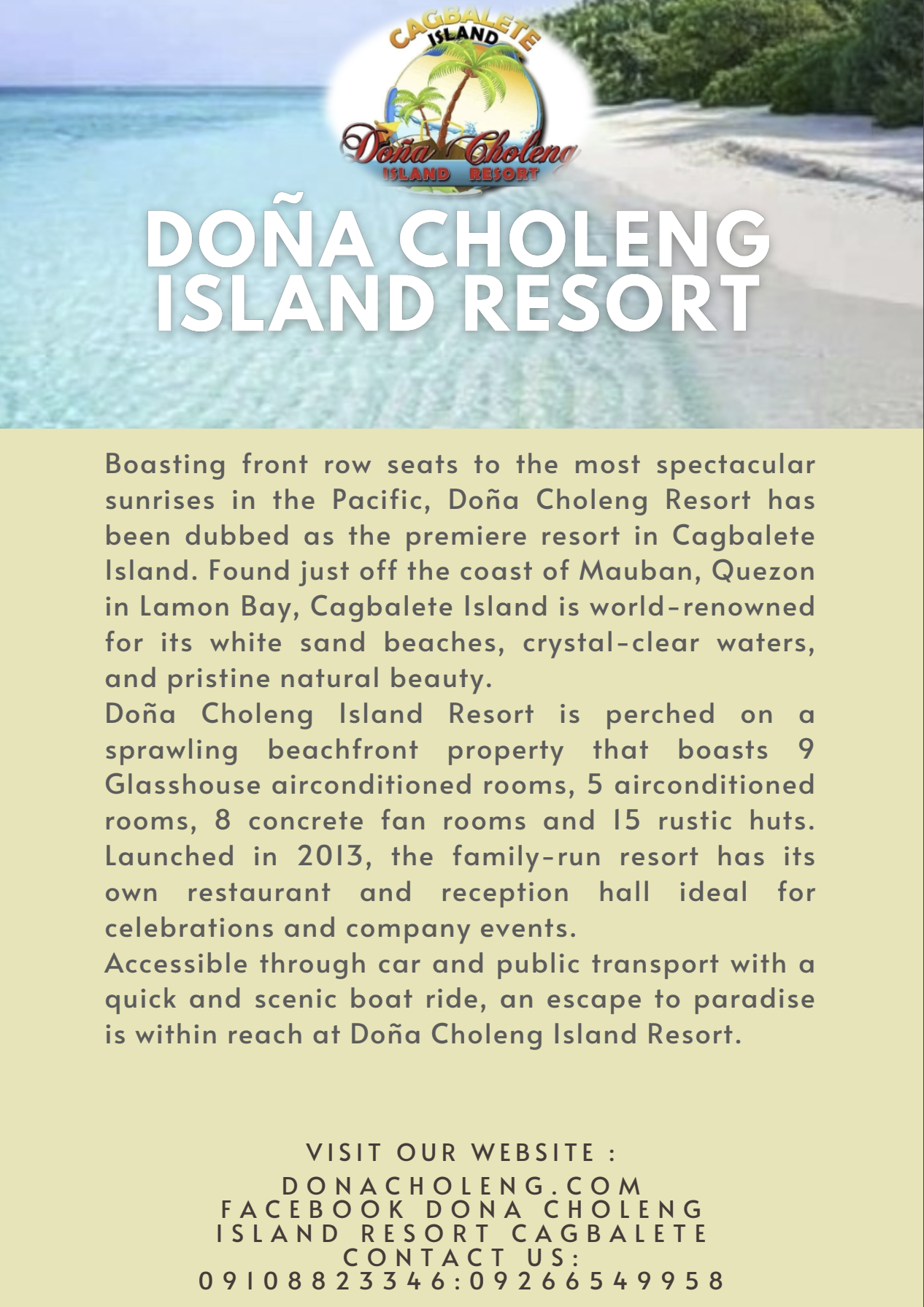 From Sabang, Cagbalete going to Dona Choleng Camping Resort at a very affordable fare of ₱ 25 per head.